EVENTS
Join us to discover Arizona's wilderness areas and to celebrate your wild place!
Please RSVP only when you are ready to secure a spot on a Wild Stew trip, as we are limited to 15 people in wilderness areas. You will be prompted to create a Meetup account or signin to Meetup (also via Facebook). Meetup is free and does not sell or rent your information to third parties.
Red Rock-Secret Mountain Wilderness © AWC
February 21st: Red Rock-Secret Mountain Wilderness, Coconino National Forest
Join us for this one-day event to perform light trail up-keep (light trail brushing, dismantling fire rings, and obscuring social trails) on the Bear Mountain Trail. Bear Mountain Trail is an ~2.5 mile hike one-way, with an elevation gain of ~1200 feet. Additional information and Trip Details!
About Red Rock-Secret Mountain Wilderness
Red Rock-Secret Mountain Wilderness was designated in 1984 and has a total of 47,194 acres. Tan, buff, and predominantly red-rock cliffs mark the edge of the Colorado Plateau across this Wilderness, just east of Sycamore Canyon Wilderness. Here the high mesas of Secret Mountain and Wilson Mountain jut out into the lower country, and outstanding canyons as deep as 1,500 feet drain into beautiful Oak Creek and the Verde River. The high rims are rather cool and moist compared with the lower desert-land, and a wide variety of vegetation supports plentiful wildlife, including elk, mule deer, white-tailed deer, javelinas, coyotes, rabbits, mountain lions, and black bears. A close look at the canyon walls may reveal ancient rock art and long-abandoned cliff dwellings.
Trip Details: Trip Details!
Volunteers Needed: 15
Work Type: Trail Maintenance

RSVP for Red Rock-Secret Mountain Wilderness, February 21st

For more information email Brian Stultz, Wild Stew Coordinator.
Woodchute Wilderness © AWC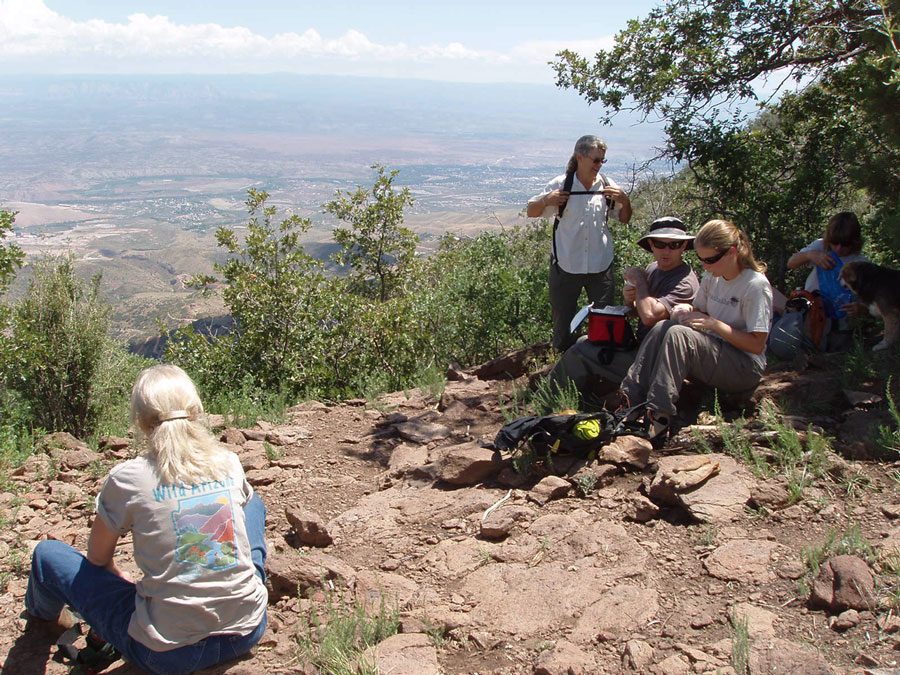 Rescheduled from 1/24! February 28th: Woodchute Wilderness, Prescott NF
Join AWC stewards, Forest Service, veterans, and other partners as we install an information kiosk at the Woodchute Trailhead (#102) and trash pick-up. With special presentations by Doug Hulmes on the natural history of the area and Wilderness. Hot chocolate and snacks will be provided by AWC - let's celebrate the next 50 years of Wilderness. Time and weather permitting there will be a short hike following the installation and presentations, where we will pick-up trash along the trail and throughout the day during this event. Additional Information and Trip Details!
About Woodchute Wilderness
The United States Congress designated the Woodchute Wilderness in 1984 and it now has a total of 5,833 acres and is managed by the Forest Service. An easily accessible Wilderness, Woodchute offers spectacular views of the San Francisco Peaks and panoramic vistas of the Verde Valley, as well as the red rocks of Sedona and Sycamore Canyon. Historically, when the mining town of Jerome was booming, this area was used as a wood supply. A chute was constructed on the North side of the mountain to deliver the wood to Jerome, hence the name. The high elevation of this area provides for comfortable summer temperatures, and growth of ponderosa pine forests. With the dramatic elevation changes from the bottom to the top of this wilderness, wildlife populations are diverse. Black bear, elk, mule and whitetail deer, mountain lions, golden and bald eagles can all be found here. This wilderness has 2 trails totaling 8 miles leaving a large area of the wilderness for nature to dominate.
Trip Details: Trip Details Available!
Volunteers Needed: 15
Work Type: Kiosk Installation & Trash Removal

RSVP for Woodchute Wilderness, February 28th

For more information email Brian Stultz, Wild Stew Coordinator.
Upper Burro Creek © Brian Andersen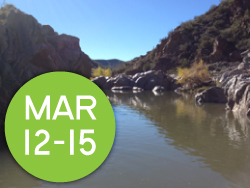 March 12-15th: Lower Burro Creek Wilderness Inventory, Northwestern Arizona
Join AWC stewards as we continue to inventory lands with Wilderness character within the Kingman Resource area. We have been inventorying this area since January, and have identified several areas in which these characteristics exist. This trip will be an exploration of one of the areas, the Lower Burro Creek area. Throughout the trip we will have reflection and journaling time to produce personal narratives that will support recommendations to the BLM to preserve the wilderness values of the area. Additional Information and Trip Details!
About the BLM Kingman Field Office
Burro Creek lies in the Kingman Field Office of the Bureau of Land Management (BLM). The Kingman Field Office encompasses a vast area that is the convergence of the Sonoran, Mohave, and Great Basin Deserts. In the summer months much of this area is unbearable due to extreme heat. However, in the fall, winter and spring it is a backpackerís paradise. A wide variety of birds and wildlife depend upon riparian corridors such as Burro Creek. Beyond the narrow riparian corridors, much of this area is dominated by desert vegetation, such as Creosote bush and Saguaro cactus. March is a time when the desert flowers are in bloom, and we hopefully will be able to see many of these delightful spectacles. We also hope to see a diversity of birds and other wildlife that use waterways to migrate through the Upper Sonoran Desert. This is a great place for birding, photography and experiencing solitude.
Trip Details: Trip Details Available!
Volunteers Needed: 5
Work Type: Wilderness Inventory

RSVP for Lower Burro Creek, March 12-15th

For more information contact Trip Leader Brian Andersen, AWC Intern, at (406) 545-8149.